Paul Stallman, MD
2 James Way, Suite 203
Pismo Beach, CA 93449
Phone: (805) 481-3733
Monday—Friday: 9 a.m.—5 p.m.

Facial Liposuction
As we age, we may acquire bulges in areas where we would prefer not to see them. While many people quickly think of their waist lines, the rest of the world sees our faces first. The area of the jowls becomes more prominent and the zone beneath the chin thickens with fat, obscuring the shape of our necks. This makes us look older than we feel.
If you live on the Central Coast or in the Central Valley and you're considering facial liposuction, we invite you to call (805) 481-3733 or request a cosmetic consultation with Dr. Paul Stallman. He'll take the time to examine you, listen to your goals, present all your options, and answer your questions. He'll also show you additional before and after photos and help you learn more about the procedure. Before your visit, be sure to watch videos featuring Dr. Stallman to learn more about his most popular treatments.
Facial Liposuction in Pismo Beach with Dr. Stallman
Facial liposuction with Dr. Stallman can improve the look of your neck and jaw line. The undesired facial fat is removed through very narrow tubes called microcannulas. This type of liposuction is an outpatient procedure performed through tiny incisions under the jaw line or at the bottom of the ear. Gentle removal of fat from the full areas adds definition to the neck and jaw line and creates a more youthful image. Patients are generally quite comfortable as they recover at home with a facial bandage under the chin to provide mild compression. This is removed after several days. Swelling and discoloration may take several weeks to resolve.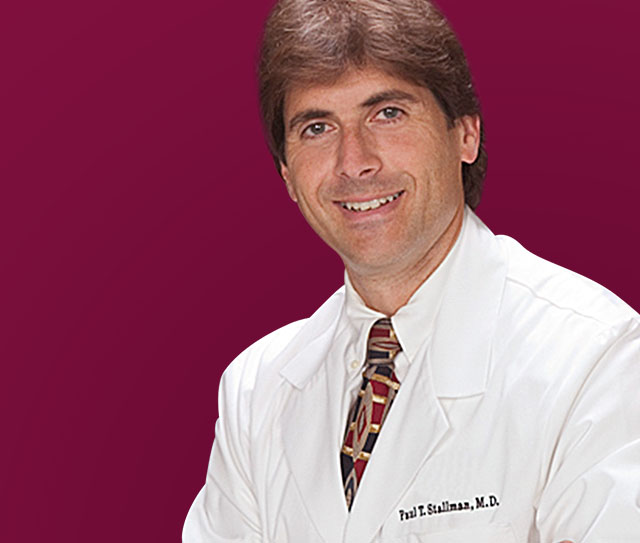 Get to Know Dr. Stallman
An oculofacial plastic surgeon, he specializes in cosmetic eyelid surgery and other facial rejuvenation procedures.
Meet the Doctor
As a minimally-invasive technique, microcannalicular liposuction affords patients a method of restoring a more aesthetically pleasing contour to their faces without undergoing a rigorous, involved surgical procedure. Dr. Stallman often performs facial liposuction for his Pismo Beach, Santa Barbara and Santa Maria facial plastic surgery patients to refine the results of their surgical procedure as well.
Contact Paul Stallman, MD in Pismo Beach to learn more. Call (805) 481-3733 or request a cosmetic consultation.
Back to Top