Paul Stallman, MD
2 James Way, Suite 203
Pismo Beach, CA 93449
Phone: (805) 481-3733
Monday—Friday: 9 a.m.—5 p.m.

Meet Dr. Paul Stallman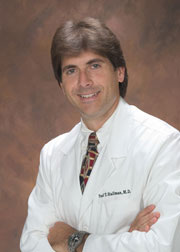 Paul T. Stallman, MD is a San Luis Obispo plastic surgeon specializing in cosmetic eyelid and facial rejuvenation. He has extensive experience and is committed to providing the highest level of care and technology possible while offering superior patient satisfaction. He strives to attain results that appear natural, avoiding a "done" look for his patients. His popularity attracts patients from outside the region, including men and women unable to find an equally talented facial surgeon in Fresno, CA.
Dr. Stallman has dual training. He is a board certified ophthalmologist who then completed a fellowship in oculofacial plastic surgery. As an oculofacial plastic surgeon, he is keenly aware of the impact that our eyes and face have on our outward appearance and is particularly sensitive to the delicateness of this area.
He is a fellow of the American Academy of Cosmetic Surgery and is one of only a few hundred doctors in the United States who has qualified as fellow of the prestigious American Society of Ophthalmic Plastic and Reconstructive Surgery (ASOPRS).
It takes years of specialized training to safely perform procedures on the delicate tissues around the eyes and face. To master the specialty, Dr. Stallman began with an internal medicine internship followed by three years of eye surgery training after completing medical school. He then became board certified and completed extensive advanced oculofacial plastic surgery training, qualifying oral and written examinations and a scientific thesis. All this was required before being considered by his peers for fellowship in ASOPRS.
Dr. Stallman is one of the few certified specialist of this nature on the Central Coast of California and has also enjoyed helping patients who come from neighboring areas such as Santa Barbara, Monterey, Fresno and Bakersfield.
Accreditation
Fellow of the American Academy of Cosmetic Surgery
Fellow of the American Society of Ophthalmic Plastic and Reconstructive Surgery
Certified, American Board of Ophthalmology
Member, International Society of Cosmetic Laser Surgeons
Member, American Medical Association
Education
Undergraduate
State University of New York at Binghamton
BA
Phi Beta Kappa
Medical School
State University of New York, Stony Brook School of Medicine
Advanced Training
Internal Medicine internship, Stony Brook University Hospital, NY
Ophthalmology residency, Long Island Jewish Medical Center, NY
Chief resident 1992 – 1993
Fellowship, Ophthalmic Plastic, Orbital and Aesthetic Surgery, University of Texas
Back to Top