Paul Stallman, MD
2 James Way, Suite 203
Pismo Beach, CA 93449
Phone: (805) 481-3733
Monday—Friday: 9 a.m.—5 p.m.

KTP Laser Skin Rejuvenation
Facial redness is a pervasive concern, affecting people of all ages and presenting in many different ways. Some people experience excessive blushing, while others are bothered by broken capillaries, birthmarks, or small, isolated red dots called angiomas. Typically, facial redness is medically benign—although it can be cosmetically frustrating. Areas or skin darkening or hyperpigmentation is also a common concern and often a result of long term sun damage. Laser skin treatments help San Luis Obispo, Santa Barbara, and even Fresno patients of Dr. Paul Stallman enjoy clear, evenly colored skin.
About the KTP Laser
Our preferred option for treating red discoloration as well as areas of hyperpigmentation is resurfacing with the KTP laser. This laser uses energy from its powerful green light to target the blood vessels responsible for unwanted redness. It is also effectively targets areas with melanin or pigment. Unlike IPL or other types of skin resurfacing, KTP's single wavelength makes it especially effective. Often, patients achieve the results they want after just a single treatment.
Before & After
Photo Gallery
See the improvements that Dr. Stallman has made for his facial rejuvenation patients.
View Photo Gallery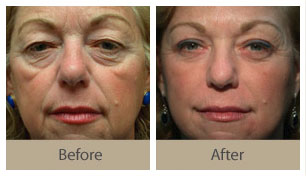 Your Treatment
Isolated spots of redness and/or pigment can be treated within 15 minutes or so, but a full-face procedure takes approximately 1 hour. During your initial consultation, we'll help you understand exactly how long you can expect your visit to last.
Your practitioner begins by putting small protective goggles on your eyes. He or she then cools the skin with a device that blows cold air onto the surface. This also has an anesthetic effect on the skin, making the procedure very well tolerated. Additional anesthesia is not typically necessary for a KTP treatment. Patients say that they experience slight discomfort as the laser emits pulses of energy, but most find it very comfortable.
Experience Matters
Nurse practitioner Ann Marie is a highly trained and experienced aesthetic nurse injector and skin rejuvenation specialist who enjoys helping her patients look and feel their best.
With expertise in a comprehensive range of fillers, neuromodulators, lasers, and other skin rejuvenating procedures, Ann Marie develops customized treatment plans tailored to each patient's goals and aesthetic concerns. She has honed her approach over many years, holds several certifications, and has trained extensively with Dr. Paul Stallman.
Meet Ann Marie
Recovery & Results
After your treatment is complete, you're free to safely go back to your normal daily activities. There is generally minimal or no required downtime or recovery. For the first couple of days after your treatment, your skin may look and feel like you have a sunburn. Expect mild to moderate redness, inflammation, and occasionally soreness. You can cover any lingering discoloration with makeup. Areas which were pigmented may darken and later, after several days, flake off. It's also important to protect your skin from the sun while it heals, as any clinical laser or light treatment can make your skin more sensitive to the sun.
Certain types of redness respond to the treatment immediately. Cherry angiomas, which present as isolated, shiny red lesions, often respond within a few hours of treatment. Other conditions may require more time to fully resolve themselves. Typically, you'll notice your treated red lesions losing their color, turning gray before flaking or fading away. Long-term results can be fully appreciated by the 1-month mark. In most cases, a single treatment is sufficient to achieve the desired results. However, certain types of redness get even better results after 2 treatments, spaced about 1 month apart.
We can't wait to help you see how beautiful your skin can be. Request a consultation online or call us at (805) 481-3733 to request your appointment.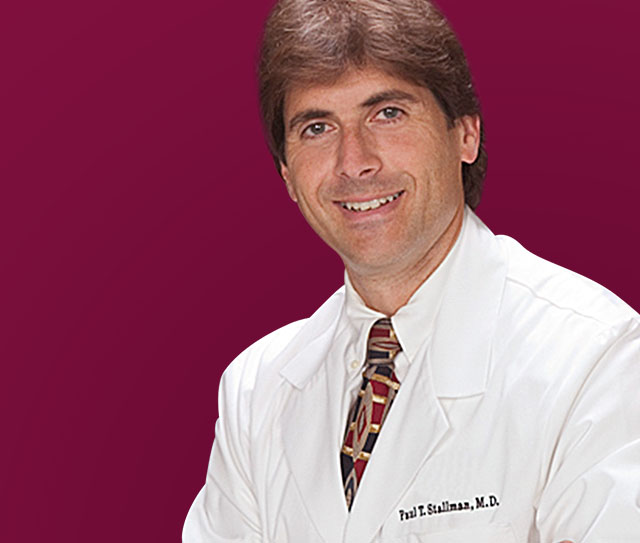 Get to Know Dr. Stallman
An oculofacial plastic surgeon, he specializes in cosmetic eyelid surgery and other facial rejuvenation procedures.
Meet the Doctor
Back to Top