Paul Stallman, MD
2 James Way, Suite 203
Pismo Beach, CA 93449
Phone: (805) 481-3733
Monday—Friday: 9 a.m.—5 p.m.

Laser Resurfacing
Laser skin resurfacing is increasingly popular with men and women seeking non-invasive facial rejuvenation. Patients come to Paul Stallman, MD from Santa Barbara to Paso Robles to refresh and revitalize their look.
Over time the nature of our skin slowly changes. Fine lines, wrinkles and pigmentary changes occur. Years of sun exposure result in breakdown of elastin and collagen in our skin and may result in a weathered appearance with wrinkles and dark spots. This is referred to as photodamage.
If you live in San Luis Obispo, Santa Barbara, or Fresno County and you are seriously considering laser skin resurfacing for facial rejuvenation, we invite you to call (805) 481-3733 or request a cosmetic consultation today to arrange an appointment with Dr. Paul Stallman. During the consultation, Dr. Stallman will take the time to discuss the different procedures for removing fine lines and wrinkles and review additional before and after photos that are not available online. Before your visit, be sure to watch videos featuring Dr. Stallman to learn more about his most popular treatments.
Laser Skin Resurfacing in Pismo Beach with Dr. Stallman
Dr. Stallman often uses lasers to treat patients from Paso Robles and Atascadero down to San Luis Obispo, Pismo Beach and Santa Maria. Many patients from the Central Valley and Santa Barbara have chosen to see him for these procedures as well. He has extensive experience with skin lasers been performing Laser Resurfacing since the first generation of these lasers became available around 1993. Laser skin resurfacing is an extremely effective method of reversing the effects of time and the elements on our skin. A laser is utilized to ablate or remove the surface layers of damaged or uneven skin. The energy of the laser then stimulates collagen within the deeper skin to contract. Over time this results in new collagen deposition. As this occurs there is an overall tightening effect on the skin with improvement in lines, wrinkles and pigmentary irregularities. Laser resurfacing is generally very effective at treating wrinkles in the region around the eyes, mouth and forehead. It is also excellent at reducing irregular pigmentation and dark spots on the skin. Actual sagging in the lid or jowl areas may respond better to surgical lifting procedures such as eyelid surgery or facelift procedures.
Experience Matters
Nurse practitioner Ann Marie is a highly trained and experienced aesthetic nurse injector and skin rejuvenation specialist who enjoys helping her patients look and feel their best.
With expertise in a comprehensive range of fillers, neuromodulators, lasers, and other skin rejuvenating procedures, Ann Marie develops customized treatment plans tailored to each patient's goals and aesthetic concerns. She has honed her approach over many years, holds several certifications, and has trained extensively with Dr. Paul Stallman.
Meet Ann Marie
Some patients may also be better candidates for another non-surgical anti-aging approach using IPL, BOTOX® Cosmetic injections, microneedling, platelet-rich plasma (PRP) therapy, or other treatments. Patients bothered by skin redness, fine blood vessels on the skin or hyperpigmentation (darkened sun spots) may find better results with our KTP laser, which uses green light to diffuse areas of redness and can treat these unwanted skin blemishes. Often, such treatments can be combined for a comprehensive effect. Dr. Stallman can help you decide which treatments are best.
Dr. Stallman utilizes a state of the art CO2 fractional laser to perform this type of treatment. The laser directs a grid pattern of tiny pulses of laser light at the skin. Each pulse delivers a column of energy that reaches the skin's dermal layer, where the body reacts by producing new collagen, improving the appearance and texture of the skin. The laser beam is fractionated, leaving small areas of untreated skin between the treated spots, allowing the healing process to be accelerated in comparison to older laser procedures. Depending on the patient and treatment goals, Dr. Stallman can increase or decrease the density of these spots to customize a treatment.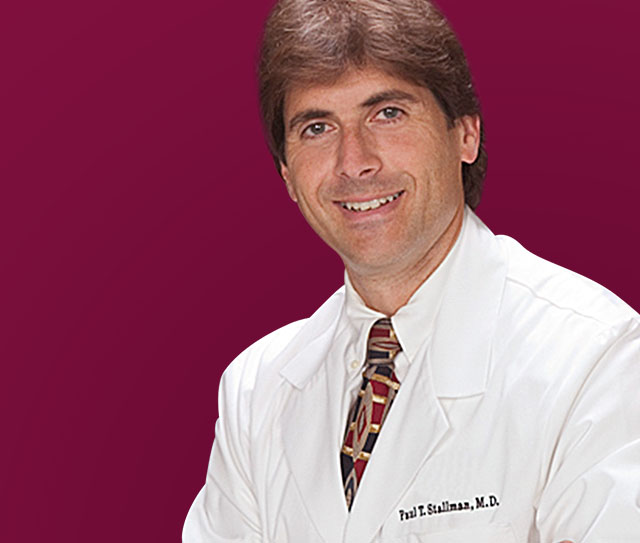 Get to Know Dr. Stallman
An oculofacial plastic surgeon, he specializes in cosmetic eyelid surgery and other facial rejuvenation procedures.
Meet the Doctor
After 7-10 days of healing, a new fresh layer of skin is in place. Typically, this will appear pink and slowly returns to normal skin tone over time. Patients may wear camouflaging makeup after approximately ten days and are advised to avoid significant sun exposure during the first six weeks. The best candidates are usually non-smoking fair-skinned individuals.
For patients seeking a laser treatment with even less downtime, Dr. Stallman also offers Erbium laser resurfacing. This laser is excellent at removing the outer layers of sun damaged skin and improving dark spots and fine wrinkles on the skin. Most patients are healed within 5-7 days and have less post-laser redness than with other lasers.
Residents of Central Valley and Central Coast communities want to look their best, but some are not ready to commit to cosmetic surgery. Santa Barbara, Santa Maria, San Luis Obispo and Fresno residents are among the many throughout Central California who choose laser skin resurfacing with Dr. Stallman. Call him at (805) 481-3733 or request a cosmetic consultation.
Back to Top