Paul Stallman, MD
2 James Way, Suite 203
Pismo Beach, CA 93449
Phone: (805) 481-3733
Monday—Friday: 9 a.m.—5 p.m.

BOTOX® Cosmetic
For many people in Santa Barbara, Santa Maria and Fresno, BOTOX® Cosmetic injections are an increasingly popular office treatment for softening facial wrinkles. The beauty of this treatment is that it is simple, fast, and effective with virtually no recovery time. People can receive the treatment on their lunch hour and then return to work. Within several days, most people report significant reduction in their wrinkles and feel that they appear more relaxed. Dr. Stallman uses BOTOX® in his San Luis Obispo County practice to reduce frown lines, horizontal forehead creases, and crow's feet. It may also be used to enhance the contours of the brows, lids, or region around the mouth.
If you are seriously considering BOTOX® Cosmetic, we invite you to call (805) 481-3733 or request a consultation with Dr. Paul Stallman. Dr. Stallman will take the time to answer all of your questions about improving facial wrinkles with surgical and non-surgical options. He'll review before and after photos with you that are not available online. Before your visit, be sure to watch videos featuring Dr. Stallman to learn more about his most popular treatments.
BOTOX® Cosmetic

Before & After Photos

Before & After
Keep in mind that each patient is unique and your results may vary.
BOTOX® Cosmetic Treatments
When used appropriately, BOTOX® Cosmetic will not radically change a patient's looks or create an unnatural appearance. Instead, Dr. Stallman and nurse practitioner Ann Marie Carvajal use the product to smooth dynamic wrinkles for a natural, refreshed look.
Based on an individual's pattern of facial animation and wrinkles, BOTOX® Cosmetic is administered with a very fine needle to selected facial areas. Anesthesia is not required and the procedure takes less than ten minutes. Most patients experience minimal brief discomfort which resolves by the time the injections are completed. The full effect from the treatment is usually attained within ten days and will last approximately four months with variation from individual to individual. Treatment has been particularly effective at reducing frown lines, forehead creases, and crow's feet. More advanced techniques allow for subtle facial shaping such as brow lifting, elevation of turned down corners of the mouth, and improvement of vertical lip wrinkles. Other noninvasive treatments such as chemical peels, laser resurfacing or filler injections(Restylane®, JUVÉDERM®, RADIESSE®) may be combined with BOTOX® Cosmetic for even more impressive results.
Experience Matters
Nurse practitioner Ann Marie is a highly trained and experienced aesthetic nurse injector and skin rejuvenation specialist who enjoys helping her patients look and feel their best.
With expertise in a comprehensive range of fillers, neuromodulators, lasers, and other skin rejuvenating procedures, Ann Marie develops customized treatment plans tailored to each patient's goals and aesthetic concerns. She has honed her approach over many years, holds several certifications, and has trained extensively with Dr. Paul Stallman.
Meet Ann Marie
Dr. Stallman has been using BOTOX® Cosmetic for many years for medical and cosmetic purposes. As an oculoplastic surgeon, he has had vast experience treating patients with facial movement disorders (blepharospasms) which has enhanced his ability to deliver consistent natural-appearing aesthetic improvements for his cosmetic surgery patients from Santa Maria to Fresno and beyond.
Prior to its cosmetic use, oculoplastic surgeons had been using BOTOX® Cosmetic for approximately fifteen years for treatment of various eyelid and facial movement disorders and had been pioneers in its development. Through the long experience of safely treating these patients, the cosmetic benefits of the product became apparent and usage evolved. BOTOX® Cosmetic is a natural purified protein which is administered in very low doses via a few tiny injections into overactive muscles that cause facial lines to form. It works by relaxing these muscles, thereby reducing the wrinkles they cause. Today, Dr. Stallman also offers his patients the option of achieving very similar results with Dysport and Xeomin which are more recently introduced products in the same category as BOTOX.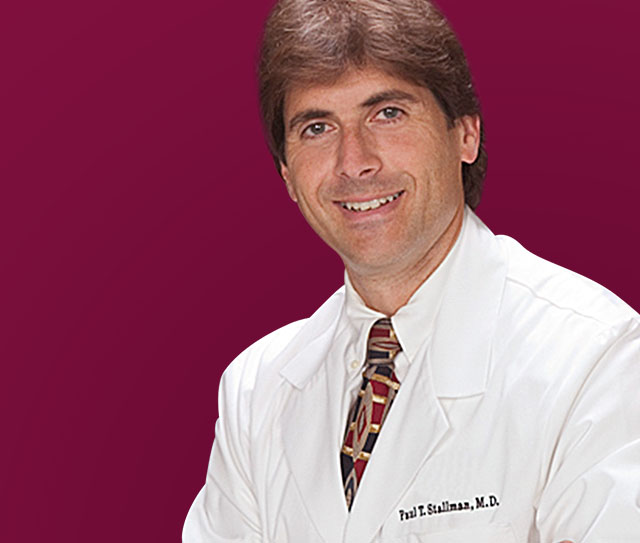 Get to Know Dr. Stallman
An oculofacial plastic surgeon, he specializes in cosmetic eyelid surgery and other facial rejuvenation procedures.
Meet the Doctor
Find out more about non-invasive treatments and facial plastic surgery with Dr. Stallman by calling (805) 481-3733 or request a cosmetic consultation. He enjoys serving the cosmetic and plastic surgery needs of patients from Santa Maria, Santa Barbara and Paso Robles, and he welcomes Central Valley residents of Fresno and Bakersfield as well.
Back to Top