Paul Stallman, MD
2 James Way, Suite 203
Pismo Beach, CA 93449
Phone: (805) 481-3733
Monday—Friday: 9 a.m.—5 p.m.

Endoscopic Brow Lift
When men and women from Central Coast communities like San Luis Obispo, Santa Barbara and Santa Maria contact a plastic surgeon for facial rejuvenation, it's very common for them to be concerned about a heavy feeling of the eyelids and brows. These patients often state, "People keep telling me that I look tired, sad, or even angry." They may also notice excess skin folds of the upper lids, perhaps even severe enough to reach down to the level of their eyelashes.
If you live on the Central Coast or in Fresno County and you are seriously considering brow lift or forehead lift surgery, we invite you to call (805) 481-3733 or request a cosmetic consultation with Dr. Paul Stallman. When you meet with him to discuss facial plastic surgery in his Pismo Beach practice, Dr. Stallman will take the time to answer all your questions and review before and after photos not available online. Before your visit, be sure to watch videos featuring Dr. Stallman to learn more about his most popular treatments.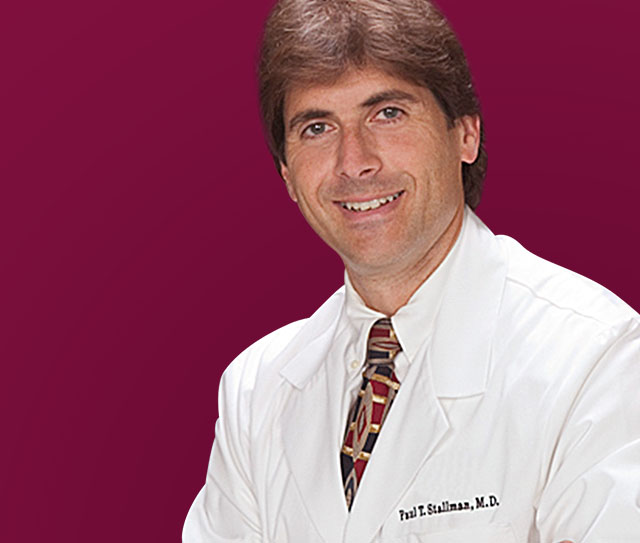 Get to Know Dr. Stallman
An oculofacial plastic surgeon, he specializes in cosmetic eyelid surgery and other facial rejuvenation procedures.
Meet the Doctor
Brow Lift for San Luis Obispo, Santa Barbara and Santa Maria Patients
Over time, the forehead and brow region descend causing excess skin to accumulate around the nasal bridge and in the eyelid area, particularly in the outer region of the eyelid. Many patients compensate for this by unconsciously over elevating their brows, causing deep horizontal forehead wrinkles to form. Although eyelid surgery may be beneficial, a brow lift may yield a superior aesthetic outcome by restoring the brows to a more youthful position. The outcome is typically a long-lasting, more rested appearance with softening of the lines in the forehead and between the eyes.
Brow lift surgery elevates the descended tissues and smoothes the forehead by relaxing muscles which tend to pull the brows down such as those in the frown area and outer brows. This improves the appearance of the eyelids, the nasal bridge, frown lines and "crows feet."
As opposed to older procedures such as the coronal brow lift, which required very large incisions in the scalp, the endoscopic brow lift utilizes very small, cosmetically pleasing incisions which are well camouflaged just behind the hairline. It therefore reduces recovery time and risks such as hair loss which were common with the older procedures. Endoscopes are narrow fiber-optic viewing scopes which are placed through small incisions. These allow the surgeon to visualize fine instruments which are used to perform the procedure.
Patients generally enjoy a fairly quick recovery following an initial period of swelling which is usually mostly resolved within about ten days. Brow lifts are often combined with other cosmetic procedures such as eyelid surgery, face lift, laser resurfacing, and chemical peels.
To find out what brow lift and other facial plastic surgery procedures are doing for Santa Maria, Pismo Beach and Paso Robles men and women, call Dr. Stallman at (805) 481-3733 or request a cosmetic consultation. He invites you to arrange a personal consultation with him today.
Back to Top