Paul Stallman, MD
2 James Way, Suite 203
Pismo Beach, CA 93449
Phone: (805) 481-3733
Monday—Friday: 9 a.m.—5 p.m.

Eyelid Surgery (Blepharoplasty)
One of the most common concerns of patients seeking facial plastic surgery is puffiness and drooping of the eyelids which cause an aged and tired appearance. Because the eyes express so much about a person's state of being and youthfulness, even early drooping of the lids can disproportionately create an illusion of aging and fatigue. Women and men from Fresno, Santa Maria, and San Luis Obispo County choose eyelid surgery (blepharoplasty) with Dr. Paul Stallman to treat excess sagging skin or "hooding" and under eye puffiness or "bags." These procedures have evolved significantly over time and can provide tremendous impact on one's overall appearance.
If you're considering eyelid surgery or another type of facial cosmetic surgery, we invite you to call (805) 481-3733 or request a cosmetic consultation with Dr. Paul Stallman. During your appointment, Dr. Stallman will take the time to answer all of your questions about eyelid surgery and review additional before and after photos that are not available online. Before your visit, be sure to watch videos featuring Dr. Stallman to learn more about his most popular treatments.
The Blepharoplasty Procedure
Dr. Stallman performs eyelid surgery for patients from Fresno, Santa Maria, and San Luis Obispo County as an outpatient procedure. Blepharoplasty usually causes just minimal discomfort. Often, a laser method is utilized. Laser eyelid surgery usually results in less swelling and bruising than with older scalpel methods. The laser seals blood vessels as the procedure is performed and often results in a near bloodless surgery. This is a significant advantage over the older procedures.
The upper eyelid is addressed by placing an incision into the natural crease of the lid where it is very well camouflaged. There, excess skin folds and prominent fat are removed. Fine sutures are placed into the crease incision and are left in position for about one week. The procedure reveals a more youthful, rested appearing eye and does not create an artificial "surprised look." It may even improve peripheral vision by reducing the upper lid skin fold. Sometimes excess lid skin may be a sign of a drooping brow. If this is the case, a brow lift may be needed to achieve a good outcome.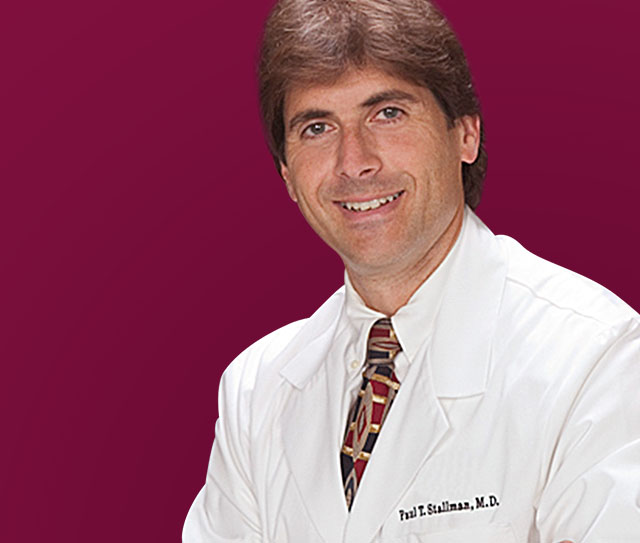 Get to Know Dr. Stallman
An oculofacial plastic surgeon, he specializes in cosmetic eyelid surgery and other facial rejuvenation procedures.
Meet the Doctor
A hidden incision inside the lower lid is used to address lower lid puffiness. Prominent fat pockets are reduced and re-contoured to smooth the appearance of the lids. In contrast to older procedures, this hidden approach does not leave any visible scars and generally does not alter the overall shape of the lids. Wrinkled, redundant skin of the lower lid is often improved with chemical peels or laser skin resurfacing. Large amounts of excess skin may require some skin excision. platelet-rich plasma (PRP) therapy can also accelerate the healing process after facial plastic surgery.
For patients seeking even less invasive procedures, injectable fillers such as Restylane®, JUVÉDERM®, and RADIESSE® can be used to treat the area around the eyes. Lower lid puffiness can be significantly camouflaged, cheek volume enhanced and wrinkles filled. BOTOX® Cosmetic treatments may also be performed to limit frown creasing, "crow's feet" and elevate the brows. This can be performed in the office with minimal downtime!
Dr. Stallman offers both non-invasive procedures and additional plastic surgery to complement their blepharoplasty. Call him at (805) 481-3733 or request a cosmetic consultation today to find out more.
Back to Top