Paul Stallman, MD
2 James Way, Suite 203
Pismo Beach, CA 93449
Phone: (805) 481-3733
Monday—Friday: 9 a.m.—5 p.m.

Face Lift
There's a good reason patients from across the country including San Luis Obispo County and Santa Maria choose face lift surgery from Dr. Paul Stallman. When performed by a skilled surgeon the procedure has always been an effective way to "turn back the clock," and today's facial plastic surgery yields more natural looking results than ever before.
Over time, gravity, facial expressions, and sun exposure take their toll on our faces. Skin and underlying muscles sag and fat accumulates, allowing jowls and loose neck skin to develop. Face lifts have been a time honored method of improving these age-related changes. They restore a more youthful appearance and outlook by providing an overall lift to the lower third of the face, tightening loose jowls and necks. For patients seeking imporvements in the mid or upper part of the face, brow lift surgery and eyelid surgery may be performed simultaneously to enhance these other areas.
If you are in San Luis Obispo, Santa Maria or Fresno Counties and would like to find out more about how a face lift can improve your appearance, facial plastic surgeon Dr. Paul T. Stallman invites you to give him a call at (805) 481-3733. You can also request a cosmetic consultation with him. During your appointment, Dr. Stallman will review your goals, answer your questions and show you additional before and after photos not available online. Before your visit, be sure to watch videos featuring Dr. Stallman to learn more about his most popular treatments.
Face Lift Procedure
Face lift surgery has evolved over time. Modern face lifts tighten the connective tissue layers under the skin to reduce jowls and loose necks and add definition to the jaw line. This is commonly referred to as a SMAS lift. This technique tightens the underlying structures which are also subject to the effects of aging and gravity. As this is performed, lax, redundant skin is redraped and removed. Liposuction is often done simultaneously to eliminate excess fat in the neck and jowl areas. At times, volume may be added to areas such as the cheeks by using fillers or fat to further enhance the outcomes.
Advanced techniques often allow pleasing results to be achieved through much smaller, nearly inconspicuous incisions as compared to those for traditional procedures. This is sometimes referred to as an S-lift. A well performed face lift provides a natural-appearing refreshed, younger look and avoids the "windswept" appearance.
Dr. Stallman typically performs face lift surgery as an outpatient procedure, using sedatives and local anesthetics. Depending on the patient and the procedures involved, general anesthesia may be utilized. Most patients are fairly comfortable after the procedure while they rest at home during the first few postoperative days. Bandages are removed after several days and the expected swelling and bruising dissipate over several weeks. Patients may sense that their faces feel strange or tight. This normalizes as some tissue relaxation occurs postoperatively. We also find that platelet-rich plasma (PRP) therapy helps advance the healing process for our facial plastic surgery patients.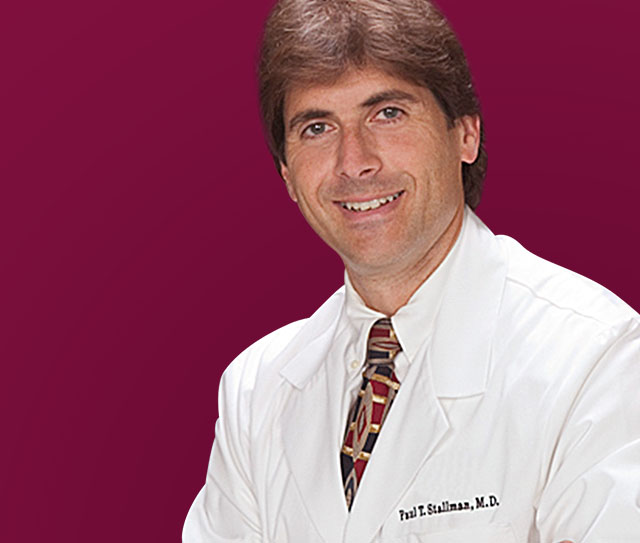 Get to Know Dr. Stallman
An oculofacial plastic surgeon, he specializes in cosmetic eyelid surgery and other facial rejuvenation procedures.
Meet the Doctor
Although the procedure is excellent at turning back the clock, the aging process will continue. Factors such as heredity, sun exposure, and level of facial animation will affect the longevity of the procedure. In general, younger patients may experience longer lasting results.
Contact us at Paul Stallman, MD in Pismo Beach to find out more. Give us a call at (805) 481-3733 or request a cosmetic consultation. Dr. Stallman has performed facial plastic surgery for patients from Paso Robles to Santa Barbara, helping them feel great about looking in the mirror again. You could soon be one of them.
Back to Top